As the Brewers begin to close in on the first National League Central Division championship in club history, one thing is certain: Doug Melvin is probably going to be here awhile. This will be the second time during Melvin's tenure that the team has made the postseason (side note: Yes I'm being presumptuous and a bit cocky here, but I don't care – this team is going to the playoffs).
Consequently, it's the second time Melvin is going to earn himself a pass for all of his mistakes, of which there have been many. After all, this is Milwaukee. Baseball-loving, but baseball-inept Milwaukee. A bad season under Doug Melvin's reign would have been a great season under Dean Taylor.
Icing on the cake: his boss, Mark Attanasio seems to be a big fan.
So with the matter of Doug Melvin's job security put to rest, let's take on another issue: Is he actually any good?
This question will no doubt bring a lot of different answers. Some will give Melvin an automatic pass for the relative success of his Brewer teams, and some will bemoan the state of the Brewers farm system and long term outlook of the team.
Personally, I'm in the middle. On one hand, yes, Melvin has taken the risks necessary to put the Brewers over the top, the result of which was a playoff berth for the first time in nearly thirty years, and now what has the makings of the best Brewer season in that same time-span.
On the other hand, 2013. Oh God in heaven, 2013. For those that don't know, that's the year when the Brewers will not only have lost Prince Fielder, but also quite possibly more than half of their current starting rotation. Zack Greinke, Randy Wolf and Shaun Marcum will be free agents in 2012/2013 and it's not out of the question that the Brewers will see all three sign elsewhere, either because they can't afford them (in Greinke's case) or because they don't want them back (possibly in Marcum and Wolf's cases).
Even if the Brewers keep one or two of the three, it could be awhile before we see playoff baseball in Milwaukee again. Bad drafts combined with bad handling of prospects and a trade-happy front office have left the Brewers with few young players who appear ready to step in to replace a Zack Greinke or a Prince Fielder, or prospects who can be traded in for a shiny new one. In fairness, this is only partially Melvin's fault. After all, he's not the head drafting honcho. That would be Bruce Seid, who appears to have whiffed his first couple of drafts in Milwaukee (okay, that might be a very early assessment).
But it was Melvin who traded, and continues to trade, what few gems the Brewers had in their system in exchange for short term success. Many people will tell you that this is the way a small market team should operate. Get the prospects, trade them for players who will help you win now, reload and repeat. The problem is, the Brewers skipped a step. They have failed to re-stock the farm system with the next line of top-notch prospects, and as a result the Brewers are left with expiring major league contracts for players they can't replace.
Knowing this, should Doug Melvin have perhaps held onto his Jake Odorizzi's and Brett Lawrie's? I don't know. And a lot of answers will change depending on how this season plays out.
But emptying out the farm system and failing to re-fill it is not the only area where the Brewers front office has struggled under Doug Melvin's watch. Some of Melvin's big leaguer-for-big leaguer trades were not so hot either. In 2006, faced with losing slugger Carlos Lee to free agency, Melvin traded him to the Rangers for Kevin Mench, Laynce Nix, Francisco Cordero and prospect Julian Cordero. Which would have been fine, except that Melvin threw in future all-star Nelson Cruz.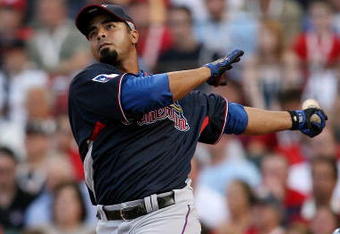 So essentially, the Brewers traded two middle of the order bats, one of them under major league control for years to come, for an overpaid platoon option in Mench, a AAAA outfielder in Nix, a very good but aging relief pitcher in Cordero (who had a lot of success in Milwaukee, and Cincinatti) and some other guy you and I have never heard of.
This may quietly be the worst trade of Doug Melvin's career. But not the worst move. Two words: Jeff Suppan.
I'm sorry to do that to you, but it was necessary. When debating Doug Melvin's worth as a GM, you cannot leave out that name. Doug Melvin signed Suppan to what was at the time, the biggest deal in terms of total dollars in club history. Suppan rewarded him by posting a 5.08 ERA as a Brewer, and getting booed off of the field after many starts, by fans fed up with his consistently awful performance.
Now, the counterpoint to all of this basically writes itself. One, probably two playoff berths for a franchise that didn't have any for 20 years before Melvin got here. Staring down the first NL Central championship in club history. Ryan Braun, a Brewer for life.
The bottom line is that your opinion of Doug Melvin is likely determined by what you want out of a GM: A win now attitude, or an eye toward the future. Zack Greinke, or Jake Odorizzi and Lorenzo Cain?
It's also likely to change year to year, based on the win-loss column. More importantly, 2013 is not here yet. Nobody knows what the Brewer team of that year will look like, so to judge Doug Melvin on what may happen would be utter stupidity.
But right now, at this moment in time, it seems to be a mixed bag, and I'm definitely not ready to deliver a verdict, one way or the other.